This website is managed by the Waseda University Property Management.
当サイトの説明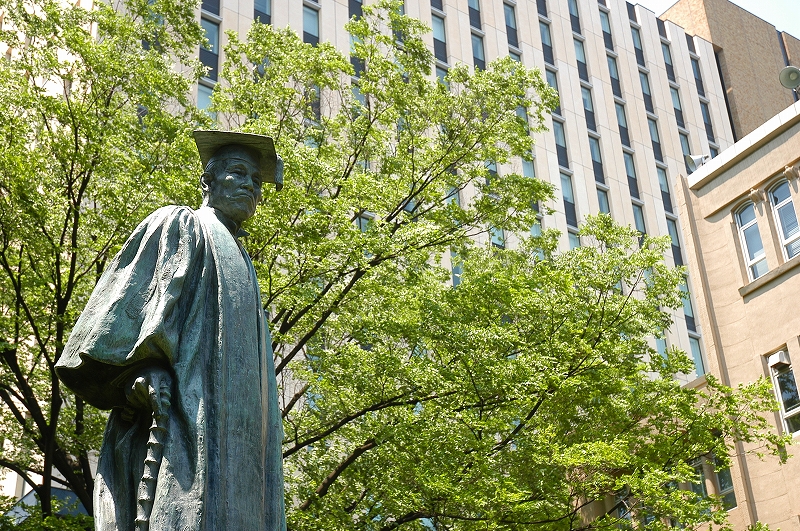 This site aims to provide information of items that allow one month contracts or longer periods of contracts to Waseda University native students, international students, and researchers. All items displayed on this website are rental items managed or owned by partner companies of Waseda University Property Management Corporation which is fully funded by Waseda University. Our wish to support those who are searching for an apartment find their ideal items more freely and easily, as well as our aim to better everyone's settling experience regardless of one`s nationality, have motivated us to establish this website. Through our website, one can find their preferable item with available staying length that meets individuals` need (minimum one month), and preserve the target item before being in Japan.
■ Short term (minimum one month) contracts available!
Under normal situations, a standard contract of apartment has a length requirement of at least two years of contract. Hence, it is very difficult for those who wish to sign a contract shorter than one year to find their ideal items. Through our website, you can find items with minimum contract period of one month.
■ Lower initial fees
The expense of furniture, including household appliances and electronics, can be an economic burden for international students who are staying short term. In our site, nearly all of the items are furnished, which will save you quite an amount of money. Furthermore, there won't be agent fee even in cases of short term contracts.
■ Reliable services for international students/ researchers
Our partner companies are able to serve in many languages. If there are any unclear points about the item or contract, they are able to explain in a comprehensive manner in different languages.
■ Easy understanding of access from the apartment to the campus
On our site, we show the access from the apartment to each campus of Waseda University. The specified commuting time and stations to transfer are convenient for evaluating and finding your ideal item.
First, please search with your personal requirements and see if there are any interested items. If you have any questions, please click on the "Inquiry Form" button under the displayed photos of each item and ask them freely anytime. They will contact you as soon as possible once they receive your form.
Moreover, other services that may be helpful and provide necessary information for your stay in Japan, are available too. Please check the Colum page if needed.
    Links:  https://waseda-housingsupport.com/column/
*The Inquiry form
For those who are looking for an apartment by themselves, please click the "Inquiry for individuals" button, If you are in charge of a group of international students, please click the "Inquiry for groups " button for your inquiry and for further contacts with our partner companies.
当サイトは、「早稲田大学の学生・留学生・研究員のために、1ヶ月以上から契約できる賃貸物件情報を提供するサイト」です。当サイトに掲載されている情報は、早稲田大学の100%出資会社である、「株式会社早稲田大学プロパティマネジメント」と提携している業者が所有・管理する賃貸物件になります。
「もっと自由に簡単に、お部屋を探せるようなお手伝いをしたい」、「国籍を問わず、どなたでも気持ちよく住まい探しをしてもらいたい」という想いから、最短で1ヶ月から入居期間を選ぶことができ、来日前でもお部屋を確保できる物件を掲載する当サイトを開設するに至りました。
■ 最短で1ヵ月間から契約ができる
一般的に、アパート・マンションを契約しようとすると、標準的な契約期間が2年となるため、1年未満の期間で契約したいと思っても、なかなか希望する賃貸物件を契約することが難しいのが現状です。当サイトに掲載されている物件ならば、最短1ヶ月からご契約可能です。
■ 入居のための初期費用が抑えられる
海外からの留学生や日本から海外への留学生など、日本での入居期間が短い場合、家具、家電を買い揃えるのは経済的な負担となります。当サイトに掲載されているほとんどの物件は、家具・家電付きですので出費が抑えられます。また短期の契約の場合に負担が大きい仲介手数料もかかりません。
■ 海外の方も安心な手続き
当サイトでは多言語対応が可能な業者と提携しています。物件や契約内容に関する不明な点を、理解できる言語にて説明を受けて頂けます。
■ 物件からキャンパスへのアクセスがわかる
当サイトでは、物件から早稲田大学の各キャンパスへのアクセスを表示しています。通学時間、乗り換え回数がわかるので、物件探しに便利です。
先ずは、当サイトにて、ご希望の条件に合う物件があるかお探しください。ご不明な点は、当サイト内の各物件情報画面の「お問合せフォーム」*から随時お問合せください。当社提携各社の担当者から迅速にご回答させて頂きます。
また、日本で生活するために必要な情報をコラムで案内しておりますので、ご利用ください。
    リンク:  https://waseda-housingsupport.com/column/
*「お問合せフォーム」は物件によりますが、個人で住まいをお探しの方は「個人問合せ」から、複数人数の受け入れ先を探したい場合には「団体問合せ」からお問合せ頂けましたら、当社提携業者が対応させて頂きます。